SH1 SERIES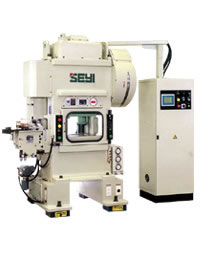 Application
Applicable for massive high precision progressive production.
Features
Easy die access with high rigid structure.
(1) Work efficiently, quick die installation.

(2) Easy to operate.

(3) Low punching noise.

(4) High rigidity with very low "total deflection".
Duly designed dynamic balancer, stable and smoothly running low vibration, more stable. JIS excellent classified precision
(1) Excellent overall clearance, long lasting application.

(2) Prolong die life.
Multi-function touch screen monitor.
(1) User friendly design for easy operation.

(2) Fault message display for easy correction.
Mechanic Grip Feeder
Model SGF0606
Lubrication Cooling System
Maintain constant oil temperature to achieve dynamic precision.
Built-in safety protection devices ensure no sudden breakdown.
Standard attachments
Hydraulic Slide Locking Device
Dual Safety Valve
Two Misfeed Socket
Air Ejector
Air Outlet
Preset counter
Dual Safety Electric Circuit Design
Lamp Socket (11oV5A)
Lubrication Heater System
Safety Guard
Optional attachments
Anti Vibration Mounts
Safety Die Block
Lubrication cooling System
Grip Feeder
CAM Feeder(Gear Change System)
A Drop Oiler
Material Ending Detector